JOHN & JANE'S MUSIC
                             WELCOME

                        Music With A Mission:

We believe we are called by God to dedicate our time and talents to give Him glory and bring encouragement to the Body of Christ.  Our mission is to use the music we've been given to bring others closer to Christ.
When we were much younger and searching for meaning and purpose in life we were guided to a powerful experience with Jesus Christ.  He filled our lives with peace and joy and His Holy Spirit.     Check out our BIO page for more info.

Our hope is that you may meet Him and have that rich peace and joy in your life.
Our mission statement :
We will give God our very best because He deserves nothing less and pledge to continue to grow in our faith as we allow Jesus to be Lord of our lives in the power of the Holy Spirit.
Check out:  Jango  internet radio.  We're getting some airplay on that network.
Also find our music on:  iTunes; Google Music Store; Amazon mp3; 24-7; Sound Exchange; Shazam; Greatindie Music; Tradebit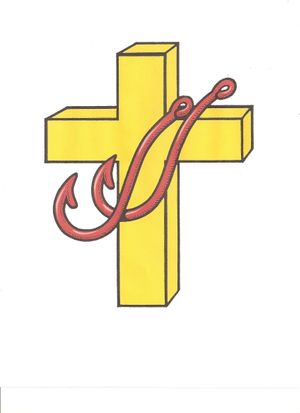 This has been our logo since 1979 - The yellow cross stands for our relationship with our risen Lord Jesus Christ.  It's 3-dimentional; a reference to The Father - Son - and Holy Spirit.  The red fish hooks (in the shape of J's) remind us that we are cleansed by the blood of the Lamb and of Jesus' call to us: "Come after Me and I will make you fishers of men."  (Mt. 4: 18-20)

Our theme scripture verse; 2 Cor. 4; 5-6  "It is not ourselves we preach but Christ Jesus as Lord,and ourselves as your servants for Jesus' sake.  For God, who said, "Let light shine out of darkness," has shone in our hearts, that we in turn might make know the glory of God shining on the face of Christ." 
WE have 5 other CD projects not yet on this website.  Use the CONTACT tab to ask about them.  1) REJOICE IN THE SPIRIT - 2) MIGHTY GOD - 3) WONDERFUL GRACE - 4)LORD, I COME - 5) GOD'S LOVE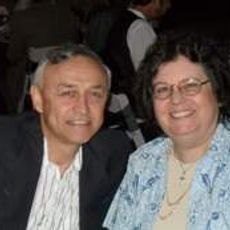 Add a TIP to help us keep making music
We're working on a new project featuring mostly new original songs, a couple of re-makes, and a few covers. We thank you for your support! John & Jane
Enter the amount you wish to donate
Baby Would You Marry Me on youtube